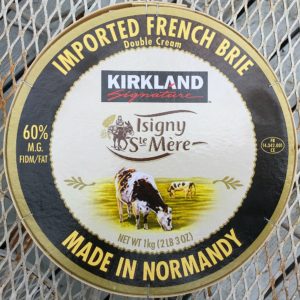 How Costco Has Really Brought It Lately—A Brief Compendium of Especially Good Products Available at the Moment
I'm going to skip any Costco-explano preamble, because it's truly one of those if-you-know-you-know situations—in which case you might be, however mildly, interested.
Giant, actually-made-in-Normandy Brie: You've seen the regular-sized version—and if you're lucky, you've also bought and eaten it. Holiday time brings the super-sized, which is even better, with a larger mie-to-crust ratio perfect for gently melting and serving insouciantly in its own très authentique wooden box.
Organic medjool dates, properly from the Coachella Valley: In the date hierarchy, medjools are the top of the heap; adding organic may be pure gravy, but oh my goodness these are capo di tutti capi… so good, perfect for your bacon-wrapping needs—but don't neglect the eating-out-of-hand option.
PEI mussels: It's usually PNW mussels on the ice behind the sneeze guard, but shopping for my Christmas Eve Simon Hopkinson mussels "Rockefeller" this year they were from PEI, which resonated deep in my Anne of Green Gables heart, but grated discordantly on my West Coast bias. Surprise: they were the best mussels I've bought in years. And the price… I mean to say.
Kirkland Signature goat cheese: Speaking of price—always sort of the subtext of any Costco conversation, isn't it—the cost of this duo-log pack has always been incredible, but useful only for preparations where its very slight chalkiness wouldn't be a dealbreaker. I'm happy to say this is no longer a concern—I'm guessing there's a new supplier because the soft lightness will make you think of the very freshest French chèvre, which is a very good thing.